3 Phase ACCL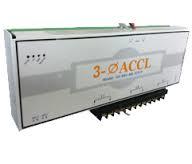 3 Phase ACCL
Product Description
ACCL -Ndura

The ACCL also known as automatic changeover with current limit, allows unrestricted supply from mains. When the main supply fails and stand by Generator supply is on. It connects the DG power to each consumer in sequence & starts monitoring itsload. The generator current allotment is software calibrated & sealed in each ACCL as per buyer's specification & is available on all load circuits.
When ever the load current exceeds the allotment, power is automatically switched off for 8/10/12 seconds, and then automatically restored. Total automation at no extra cost over outdated manual system.
No restriction on choice of generator power points.
No separate wiring required.
Assured availability of allotted current no less, no more.
Significant saving on wall space & wiring.
Simplifies electrical complexity.
Safeguards generator by gradual loading & precision monitoring.
LED indication of all operational states.
Fully solid state, using imported precision components.
Wide range of Single & Three Phase models
Micro-Processer based.
2 10 seconds delayed mains transfer for added safety.
Gives TRIP LED Indication.
DOUBLE RELIABILITY.
No chance of WATER INGRESS.