Battery Charger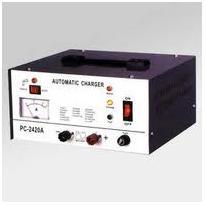 Battery Charger
Product Description
Battery charger
Keeping in mind ever-evolving requirements of our respected clients, we are offering high quality Battery charger to our consumers. It limits and guarantees that ideal force is accessible from the battery when need it. This item is a gadget used to place energy into an auxiliary cell or battery-powered battery by compelling an electric flow through it. The provided Battery charger is excellent is performance, high in quality and durability. We supply the equivalent at common market price within the stipulated time period.
The Shakti Powertronix Shot automatic battery chargers are available in 900 milliamp and 1.5 amp charge capacities and ensure that optimum power is available from your battery when you need it. Both chargers are supplied with a fused-ring connector, in addition to the alligator clips that can be attached permanently to your battery, making charging and maintaining your battery a snap. Additional fused-ring connectors can be purchased, allowing you to easily reattach the chargers to a number of vehicles.
The Digital Battery Tester is simple to use and will accurately determine the condition of your battery in seconds. It will even test a discharged battery!



Fully automatic 3 level charge cycle for effective charging
Reaches 14.4 volt peak, then automatically switches to float
Reverse polarity protection









Automatic 12V 1.5 Amp Battery Charger

Fully automatic 5 stage cycle for efficient charging
28-day charge recycle re-evaluates battery condition for long-term storage
Up to 16 volts for recovery of sulfated batteries
Error proof operation
Reverse polarity protection
3 year limited warranty
Download the 1.5 Amp Charger Safety Instructions (a PDF file)




Automatic 12V 4 Amp Battery Charger

Charges both conventional (flooded) and sealed (VRLA) Powersports batteries
Up to 20 volts aids in recovering deeply discharged "sulfated" batteries
"Quick Mode" for quick vehicle set-up
"Normal Mode" for smaller batteries, initial activation and deeply discharged batteries
Diagnosis function advises if battery is damaged and will not take a charge, and alerts if charger is attached in reverse to the battery









Digital Powersports Battery Tester

Developed exclusively for Powersports batteries
Determines accurate battery status in seconds
Tests batteries according to A.H. rating
Single load, dynamic resistance technology minimizes battery drain during test
Tests both charged and discharged batteries
1 year warranty











10-Bank Battery Maintainer

Maintain up to 10 batteries at a time
5-stage maintenance/float charge
Prequalification battery test
Built-in timer for battery protection