Leoch 150-12V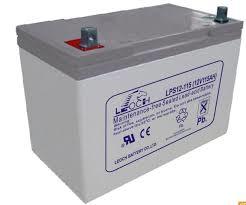 Leoch 150-12V
Product Description
Leoch 150-12V

LEOCH Gel VRLA batteries are building on our experience in AGM VRLA batteries.
LEOCH battery completely relied on its own technology and strength, and has
successfully developed LEOCH GEL battery. Through simulation and speedup
tests,it has shown good effect, and LEOCH GEL battery' every quality indicator
has reached the advanced overseas level and has become a series production.
General Features
Long time discharge
Suitable for space and storage electric power use
Special plate design, long cycle lifetime
Using special lead-calcium alloy to boost up the grid anti-corrosive performance and extend the battery using lifetime
Using special separator to boost up the battery performance inside
High thermal capacity, reduce the risk of thermal out of control and drying hard, can be used in bad environment
High gas recombined reaction efficiency
Little water losing, no electrolyte stratification phenomenon
Long storage time
Good deep discharge resilience performance
Using gas silicon dioxide, small granule degree, bigger than surface area
Typical Applications
1) Cycle applications
Golf trolleys
Garden equipments
Portable equipments
Wheel chairs
Solar and wind mill units
Medical equipments
Flash units also for mining (head flash)
Portable video/radio
Traffic lights
Street signs
Boats or buoys
Cottage camping
SOS pillars
Toys and hobby applications
Portable equipments for communication
testing, distance measuring etc.
Pump system
2) Stand By applications
Telecommunication backup
Power plants
Burglar alarms
Medical equipments (stationary and portable i.e. X- ray)
Computer back-up (high power)
Communication systems
Fire alarm systems
Transmitter systems
Cash register systems
Emergency lights signal systems
Telephone systems
Clocks systems
Uninterrupted
power supplies
Elevators emergency power supply (skyscrapers)
Solar applications
Mobile stations
Airport / runway emergency illumination
Emergency power supply for hospitals
Radar and satellite stations