Liebert GXT MT+CX 1 kva LB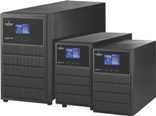 Liebert GXT MT+CX 1 kva LB
Price And Quantity
Product Specifications
Product Description
Your quest for top-grade Liebert GXT MT+CX 1 kva LB finishes here. We are a confided in element in this space which is associated with the way toward producing and providing premium quality items to our purchasers. It is intended to offer compact, efficient and reliable answer for modern electronic gadgets. This gadget is appreciated in the marker because of its excellent performance, high quality and durability. It can be avail from us at fixed price rate without any delay.
Liebert GXT MT+CX 1 kva LB
Liebert GXT MT+ CX is a full feature Transformer free UPS designed to offer Compact, Efficient and Reliable solution to Modern Electronic Gadgets. It features True Double Conversion On Line Back UP Power Solution for Small Data Centre, Data Networks, Voice Networks and Process Automation Equipments.

Applications:

Data Networks : Mid Range Servers ( Windows and Linux ), Wifi
Applications and Data Networks.
Small Data Centre Rooms: Small Data Centres Room to Manage Small
Office Networks and Business Critical Continuity.
Voice Networks : Cellular Sites, Voice Over IP (VOIP), Very Small Aperture
Terminals (VSAT) PBX and IT Enabled PBX.
Process Automation Equipments : Programmable Logic Controllers
(PLC) and Cash Machines (ATM.)

Features
Product Downloads

‹IGBT Based Rectifier
True Online Double Conversion with DSP
Control Technology for High Performance and Reliability.
New Graphical LCD Display Provides UPS
Data, Alarms and Helps in faults diagnostics and trouble shooting.
Double Conversion Efficiency upto 90%.
Active Input Power Factor Correction 0.99.
0.8 Output Power Factor.
Wide Input Voltage window ( 110 – 280 Vac ) for Indian Environmental Condition and for Optimized Battery Performance.
Configurable Output Voltage
(200/208/220/230/240 Vac.)
Generator Compatible with Wide Input Frequency Range (40 Hz-70 Hz).
4 Stage Extendable Charging Design for optimized Battery Performance.
Adjustable Battery Charging Current 1/2/4/6/11/12/13/14/15/16 Amps according to Battery Capacity and Rating.
50/60 Hz Automatic Frequency Converter Mode.
Intelligent Monitoring with Standard RS232/USB Port Plus Slot Available for RS485/Dry Contact/SNMP Card.
Inbuilt OVCD.