Vertiv SX UPS 160 kva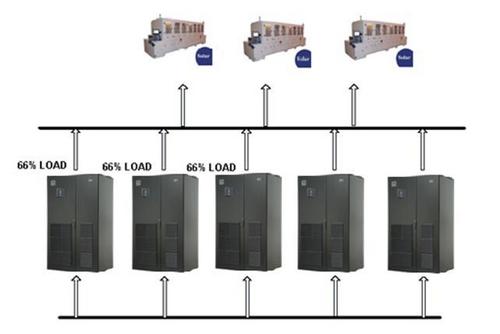 Vertiv SX UPS 160 kva
Price And Quantity
Product Specifications
Product Description
We are going through the processing of producing and supplying outstanding Vertiv SX UPS 160 kva that is made by using best quality required materials with the help of modern technology which ensures long shelf life of the same. This item helps to separate from power links in metal courses or metal channels that are electrically clung to the metalwork of the cupboards to which they are associated. The delivery of this Vertiv SX UPS 160 kva is done by us at cost-effective prices.
Full compatibility with all types of loads with PF up to 1 without de-rating
Fully compliant with leading power factor loads
UPS do not require de-rating for leading power factors and can be connected to any load within the nominal kVA and kW rating of the UPS regardless of power factor.
The performance of the converter is enhanced
A quick and flexible processing of data in DSP
Rapidly generating variable as a result
This allows a real time control of the UPS electronics
Advantages
Improvement of short circuit behaviour, as individual phases can be controlled more quickly
Synchronisation or phase angle precision between UPS output and bypass supply even in the case of a distorted mains voltage
High flexibility in parallel operation
Double Conversion Mode
maximizes performances with any kind of load and with any condition of the electrical environmental Under normal conditions,
Efficiency up to 96%
Digital Interactive Mode (DIM)
maximizes energy savings.
SX operates from direct line or conditioned line depending on an analysis of the recent quality history of the mains.
Efficiency up to 98%
Savings obtained using Liebert SX in intelligent double conversion mode, compared with traditional UPS with 92% efficiency expressed as a percentage of initial investment & evaluated @ 100% of the nominal load
1.Temperature compensated battery charger operation
2.Low ripple current
3.Time compensated end of discharge voltage
4.Wide input voltage range
5.Battery temperature monitoring
Prolonged discharge at low currents accelerates
irreversible sulphurisation of battery elements, thus
shortening battery life.
The lead conductor elements become coated with an
insulating layer which cannot be removed by subsequent
charging processes.
In addition, the UPS includes an "on generator" function which, when activated via input contact, provides the possibility of inhibit either
"Battery charging" Synchronisation of the inverter to the bypass line supply or Transfer to the bypass line.